SUPERSPACE + Peter & The Danish Defence
30/09/2016 @ 20:00

-

23:00

dkr40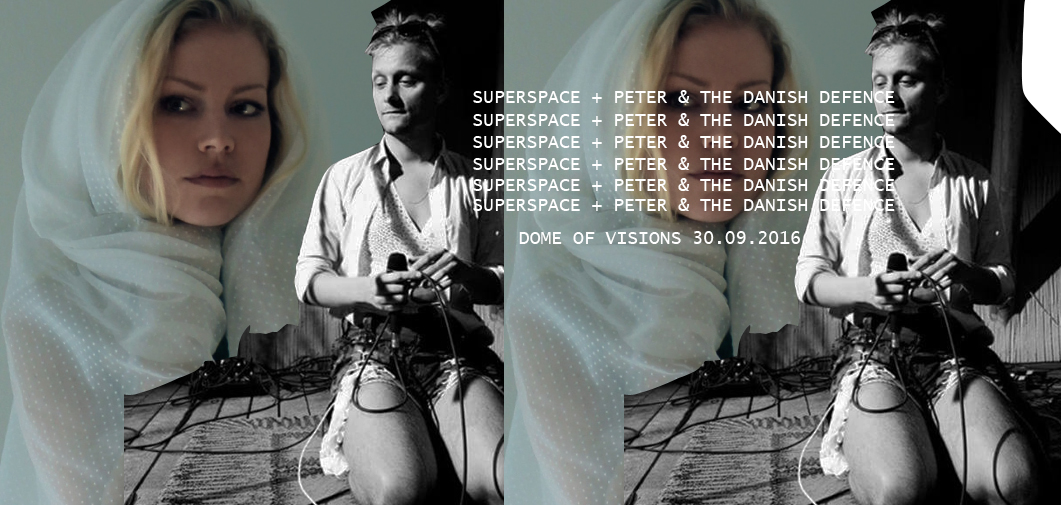 Superspace (NO) og Peter & The Danish Defence (DK) teamer denne aften op under stjernehimlen i Dome of Visions!
Superspace tager dig med på en overbevisende rejse ind i sit melankolske one-woman spacepop univers. Hendes hårde beats, leg med loop pedaler, synth og flydende stemmers entropi er akkompagneret af visuals med heste i ensomt galop. Hendes EP "Paris" kom ud i Juli 2016 på samme label som den norske prisvindende elektroniske musiker Ralph Myerz.
Peter & The Danish Defence (DK), er den første kunstner der har skrevet et album i et officielt samarbejde med en hær – Det Danske Forsvar. Sangene laver gnister i et mørke hvor Peters smukke stemme vandrer over brutale militær-pop landskaber. Hans album "Peter & The Danish Defence" udkom i Maj 2016 med varm omtale fra blandt andet BBC og Danmarks Radio. Albummet er støttet af Statens Kunstråd.
Vision:
Vi deler visionen for en bæredygtig fremtid, og glæder os til at spille i et rum, en utopi, en lille planet der smelter sammen med ude og inde, rum og byrum, der inviterer ind i varmen.
Arrangementet i domen afholdes af private arrangører. Tilmelding via Facebook.