Dome of Visions takker af
29/04/2016 @ 17:00

-

30/04/2016 @ 00:00

Free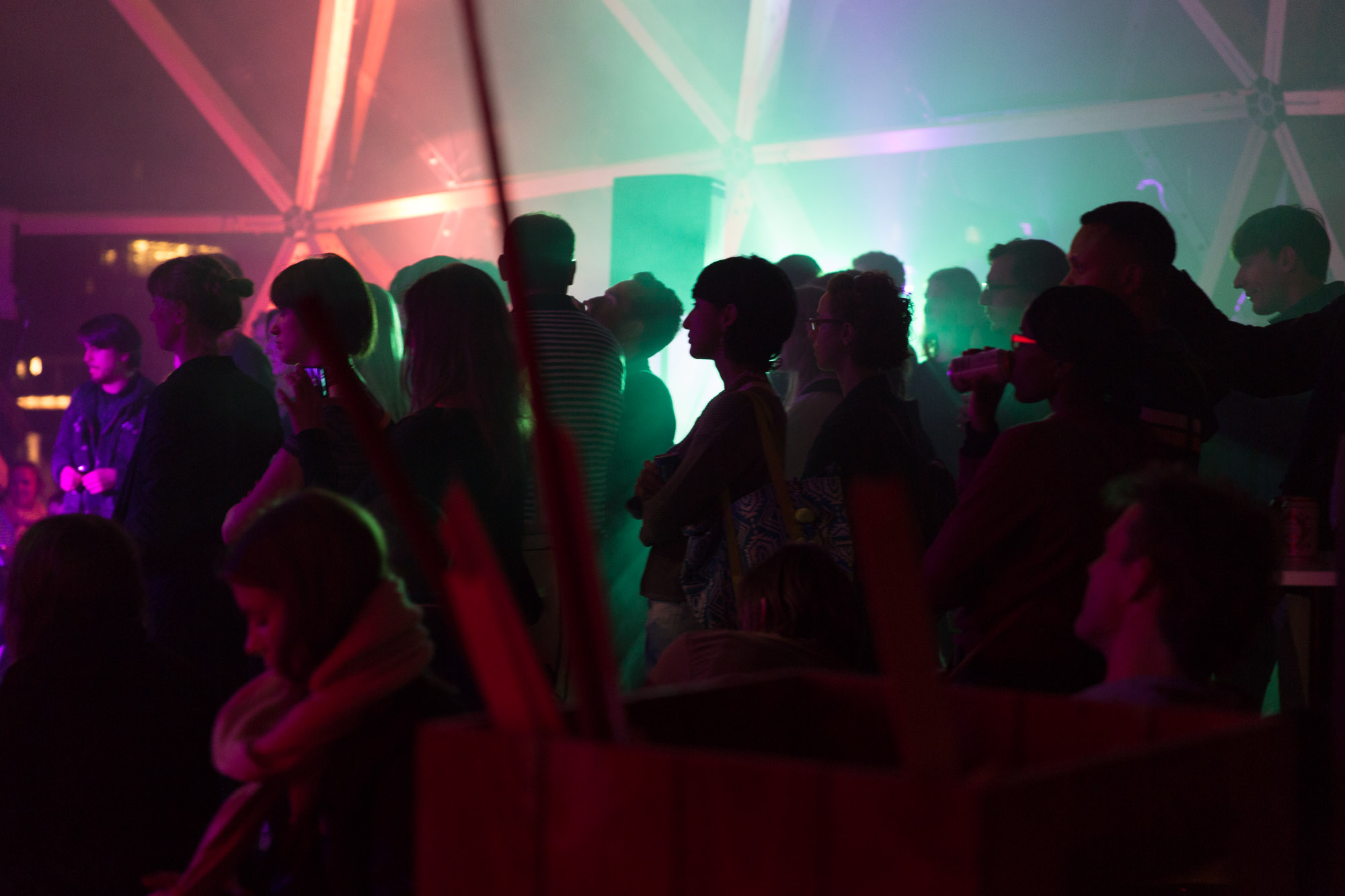 INVITATION // KOM NÅR VI SIGER FARVEL TIL SØREN KIERKEGAARDS PLADS OG KØBENHAVN.
STED: SØREN KIERKEGAARDS PLADS
DATO: FREDAG 29. OG LØRDAG 30. APRIL
English below.
To år er gået, og vores midlertidige ophold på Søren Kierkegaards Plads lakker mod enden. Med udgangen af april forlader domen pladsen foran Diamanten – men kun for at fortsætte rejsen til Aarhus. Allerede til juni åbner vi de fire dobbeltdøre og letter på hatten i en nydesignet og lidt større dome på Pier 2, Aarhus Havn. Hurra.
Inden da vil vi gerne fejre den sidste tid med alle jer, der har bidraget til Dome of Visions liv og leben gennem årene.
Sammen skal vi fejre alle jer, der har været med til at forme og udvikle Dome of Visions med over 600 arrangementer, flere end 32.000 besøgende og over 10.000 følgere på Facebook. I er allesammen en kæmpe del af Dome of Visions. Så stort TAK!
Domens afslutning i København er ikke et farvel men en hyldest til bæredygtig arkitektur, sanselighed og poesi, midlertidighed, partnerskaber på tværs og det vibrerende potentiale i byens mellemrum. Vi glæder os til at byde velkommen i nye omgivelser på havnen i Aarhus, og inviterer alle jer med på rejsen!
Så tag din mor, fætter, kæreste, kollega, nabo eller hund med, så vi sammen kan sende Dome of Visions godt af sted – inden det går løs i Aarhus.
————————–————————–————————–——–
WEEKENDENS PROGRAM (Opdateres løbende)
FREDAG
KL. 15.00: TALER OG BOBLER
Jacob Fuglsang Mikkelsen bag DJ-pulten
KL. 17.00: ÅBENT HUS
Kom forbi og få en kold øl og sig farvel og på gensyn. Nyd musikken, rummet og del din vision inden domen rejser videre.
KL. 20.00: AFTENKONCERTER
TBA
————————–————————–————————–——–
LØRDAG
KL. 10.00: MORGENKAFFE I DOMEN
Udstilling: Oplev den nye dome til Aarhus
KL. 14-17.00: DREAMHUB // Kim Bjørn
KL. 20.00: AFTENKONCERTER
Orkestr Partisanski m.fl.
TBA
————————–————————–————————–——–
At the end of April our stay at Søren Kierkegaard Plads in Copenhagen ends – but only to continue the journey to Aarhus , where we in June 2016 opens the four double doors and the hat in a redesigned slightly larger dome.
We are so exited about the past two years at Søren Kierkegaards Plads with over 600 events and more than 30,000 happy , excited and enthusiastic guests. All of you have contributed to the dome life and story and have made Copenhagen an even more interesting and exciting city to visit or stay in. If you missed it – stop by soon.
Our program for April is packed with concerts, exhibitions, video releases, book events , Argentine tango and much more.
Last weekend: 29.-30.th of April. Stop by to say goodbye, have a beer and share your vision for a more sustainable future.