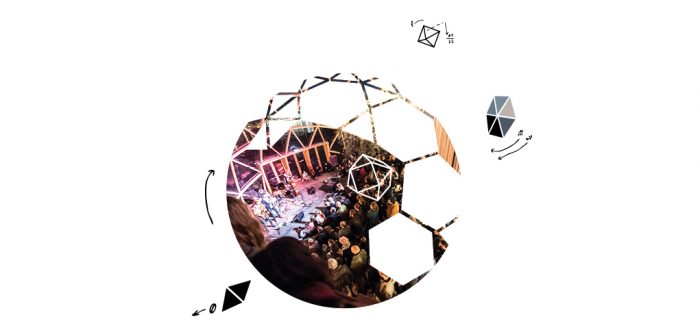 In the spirit of Dome of Visions we invite and encourage everyone to submit a proposal for an event to be realized at the final weekend of Dome of Visions in Aarhus.
From November 1st  Aarhus Municipality will take over the operation of Dome of Visions. There is no better way to mark this transition than to celebrate that which has created sensuousness and operated in the in-between spaces of the city.
We invite you to be part of the heritage by contributing with your talent to a final vibrating weekend. We invite you to materialize and/or perform your dreams in Dome of Visions. Donate yourself to the celebration.
Save-the-Date: the 26-27th of October 2018
We look forward to be hearing from you!
All the best,
The Team of Dome of Visions
THEME OF THE CALL:
Sensuousness, Sustainability and Urban development
These are crucial pillars in Dome of Visions which is why we ask that you submit a proposal to reflect on the question of how to create a vibrant life in the in-between spaces of the city and consider our thematic curatorial framework. It can both be considered in concrete or more abstract terms. The proposal may describe a wide range of projects from concerts, performances and installations to debates, workshops and lectures.
We encourage you to experiment with the format of your proposed event – especially in relation to the surrounding environment and the sensuous lyricism of the room. We are offering Dome of Visions at your free disposal. In return we only expect you to unfold your ideas. Potentially we will intertwine proposals in a symphony of celebration.
DEADLINE FOR SUBMITTING
The 15th of October 2018
HOW TO SUBMIT YOUR PROPOSAL:
Please send it to curatorial assistant Sandra Sohn:
kuras@domeofvisions.dk
WHAT TO SEND
Maximum 1 page of text (2400 characters including spaces). Describe the work you want to create, unfold and manifest in Dome of Visions. Please add a video/sound file or a picture/drawing. Name the file "proposal Dome of Visions + the title of your proposal".
TIMELINE:
The 17-20th of October 2018: The chosen proposals will first be contacted and eventually announced on Facebook and www.domeofvisions.dk
The 26-27th of October 2018: Manifestation in Dome of Visions.
READ manifesto ect: domeofvisions.dk/mellemrummets-scene/