Work in progress – COEMA
30/11/2017 @ 16:00

-

17:00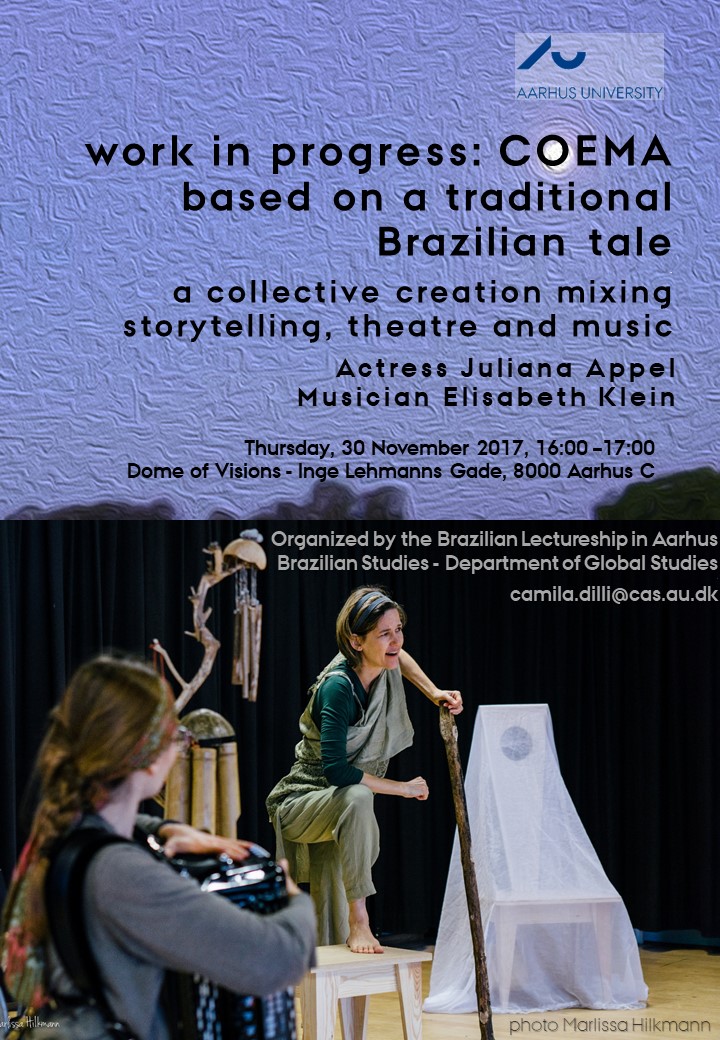 Come and join us for a small taste of Brazil with Brazilian actress Juliana Appel performing her work in progress, COEMA. This invitation is for people interested in traditional oral stories from the old days and listening to a little bit of Brazilian Portuguese. The performance is going to be in English and Portuguese (details below).
This event is in collaboration with the Brazilian Lectureship in Aarhus – Brazilian Studies Program – Department of Global Studies. Contact: camila.dilli@cas.au.dk
30th of November, from 16:00 to 17:00, in the Dome of Visions
COEMA
How many stories do we need to survive?
How many stories live inside you?
An actress and an accordionist will tell us stories inside a story to reflect upon our choices.
Magic powers, witches and fantastic beings come together to question what we are searching in life and what we can make out of it. There is no right answer; the only certainty is that for each choice comes a loss.
COEMA, based on a popular Brazilian tale collected by Ricardo Azevedo, is a collective creation that mixes storytelling, theatre and music.
INFO
Age group: Adults and family
Languages: Portuguese and English
Duration: 30 min.
Actress: Juliana Appel
Musician: Elisabeth Klein
Choreography: Ingrid Alfonso/ Fabio Linardi
Scenographer: Juliana Appel
Photography: Marlissa Hilkmann
Text translated by Selma Vital
Director: Ofer Ravid
Vision for bæredygtige fremtider: A place where diversity meets is a good place for art, which I believe must be free and represent individual and collective desires. Dome of visions allows us to share a space that represents solidarity and respect for nature.
Vision for fremtidens by: Our vision of the city of the future is one where equality of rights prevails without letting the individuality and diversity of each human being disappear.