The Dome of Visions project is about putting action into words and following through on new ideas in construction and urban thinking and planing. The dome is intended specially to inspire and to challenge regarding the solutions for the climate challenges to come.
Minimalist Construction
The Dome of Visions is based on the ideas conceived in the 1940s by the American futurist and architect Buckminster Fuller.
The dome principle builds on studies of, among other things, minimalist structures whose surface tension creates the basis for the supporting framework and facade.
The Dome of Visions was constructed by NCC in close cooperation with architects Kristoffer Tejlgaard and Benny Jepsen. It is 10,5 meters in height and has a diameter of 21 meters.
The Dome is aimed at challenging the construction industry and construction material manufacturers. How can we create buildings that are both sustainable in the broadest sense and simultaneously energy-optimized?
How can we develop cities if we must balance both daily life and ambitious climate goals?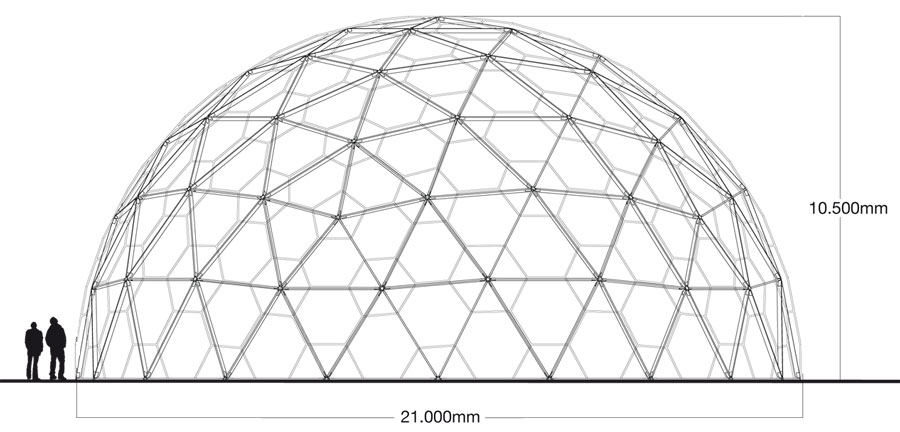 Building envelope: The nine pentagons and hexagons form the building envelope. This simple way of connecting the surfaces can only be done with flexible plastic. The surfaces overlap for increased strength along the edges and to let water run off, as with panes in traditional greenhouses.
Outer facade: The Dome consists of two overlapping geometries forming a 350 m2 room. The outer layer, 850 m2 in surface area, consists of 256 transparent polycarbonate plates in a plate-stabilized, v.8 dodecahedron pattern. The inner layer consists of 250 90mm X 180mm Kerto® rods assembled in a v.4 icosahedron, lattice pattern with 91 steel nodes.
House of inspiration

The Dome of Visions is an open venue for very different interests. The Dome will be used for concerts, readings, debates about architecture, business seminars, exhibitions and even "camps" in which students and the city's creative lights meet for days to immerse themselves in the new challenges of architecture.
Vitalize the temporary
The Dome of Visions places itself in the city's spaces, and offers its ideas about how we can vitalize the space between buildings and the temporary sites that always spring up when new buildings are constructed.
The lush garden in the dome and sensuality in the transparent spaces provide additional dimensions to the artistic events that take place in the dome.
The dome was found at Krøyers Plads in Copenhagen for approximately two months starting in March. The dome is now situated at the Port of Aarhus to mid-October.
It takes approximately 14 days to get the dome on its feet and the same time to tear it back down. To follow the dome, we invite you to take a look at the program where you may also find which activities will be available and when. If Buckminster "Bucky" Fuller has caught your interest, you will find a link to a more detailed segment about him in the menu.