A Sensuous Space-in-Between
"Living in a Sensuous society: Another such experiment is the Dome of Visions – How would we build and live in a Sensuous society? Think about this as you sense the room that you are in. The space surrounding your immersed body. Living creature."
– Sensuous society manifesto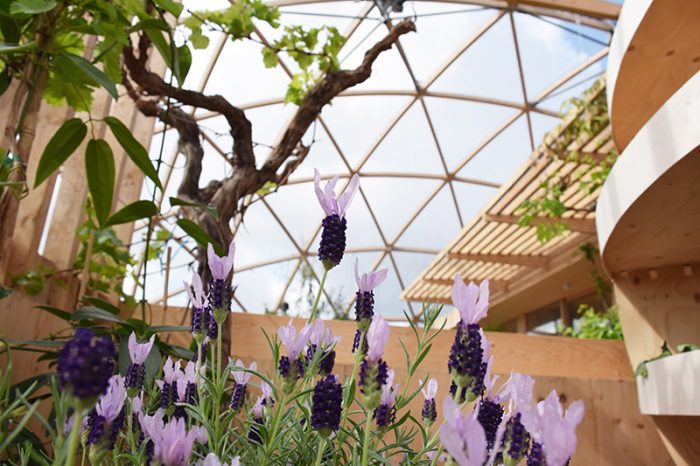 I have previously described the Dome of Visions as the potential building of a Sensuous society and thereby an exploration of a what living – as in 'housing' – might be in a Sensuous society – a potential future world governed by aesthetic principles. Living can be perceived in how we build and live, here within how we organize our city space ('Sensuous city') and I perceive the sensuous to be a vehicle towards a more sustainable future.
The Dome of Visions is a physical space, which contributes to the intention of democratizing the aesthetic by providing a space in which the sensuous and poetic can be unfolded. Curatorially the Dome of Visions is an open invitation for everyone to suggest content, and furthermore be in individual dialogue with our curatorial team about how this content resonate with our overall curatorial framework, which we have also come to term the DNA of the Dome of Visions, constituted by respectively; sustainability, urban development and the sensuous. These three themes can be said to have been and to be the pillars of our explorations. It has proven to be an extremely potent strategy for creating a vibrant and sensuous life in the spaces-in-between of the city and you are still invited to participate and co-create with us. Welcome!
Warmly,
Gry Worre Hallberg, Curator
Denne tekst er bragt som leder i nyhedsbrev #41 fra Dome of Visions. Læs hele nyhedsbrevet med denne måneds #domeofvisions af @overgaardhenriette / Udforsk domens kommende events med blandt andet sanselig workshop, sommerkoncert med tre forskellige sangskriveres univers, grill-aftenen med fokus på madspild og bæredygtige fællesskaber om måltidet / Månedens visioner ved Kvindemuseet / Samt naturligvis alle de spændende highlights fra den seneste tid. Læs.